We promote innovation by disseminating knowledge, models and policies, including those of European origin, capable of generating necessary and positive changes. We support the growth of the social economy and the innovation ecosystem for the common good, towards a paradigm of inclusive economic development, whose component parts include the reduction of inequalities. We work to improve citizens' and organisations' access to the paradigms of digital transformation, as tools for creating decent job opportunities and addressing society's complex challenges.
Our work is divided into various
areas of intervention

.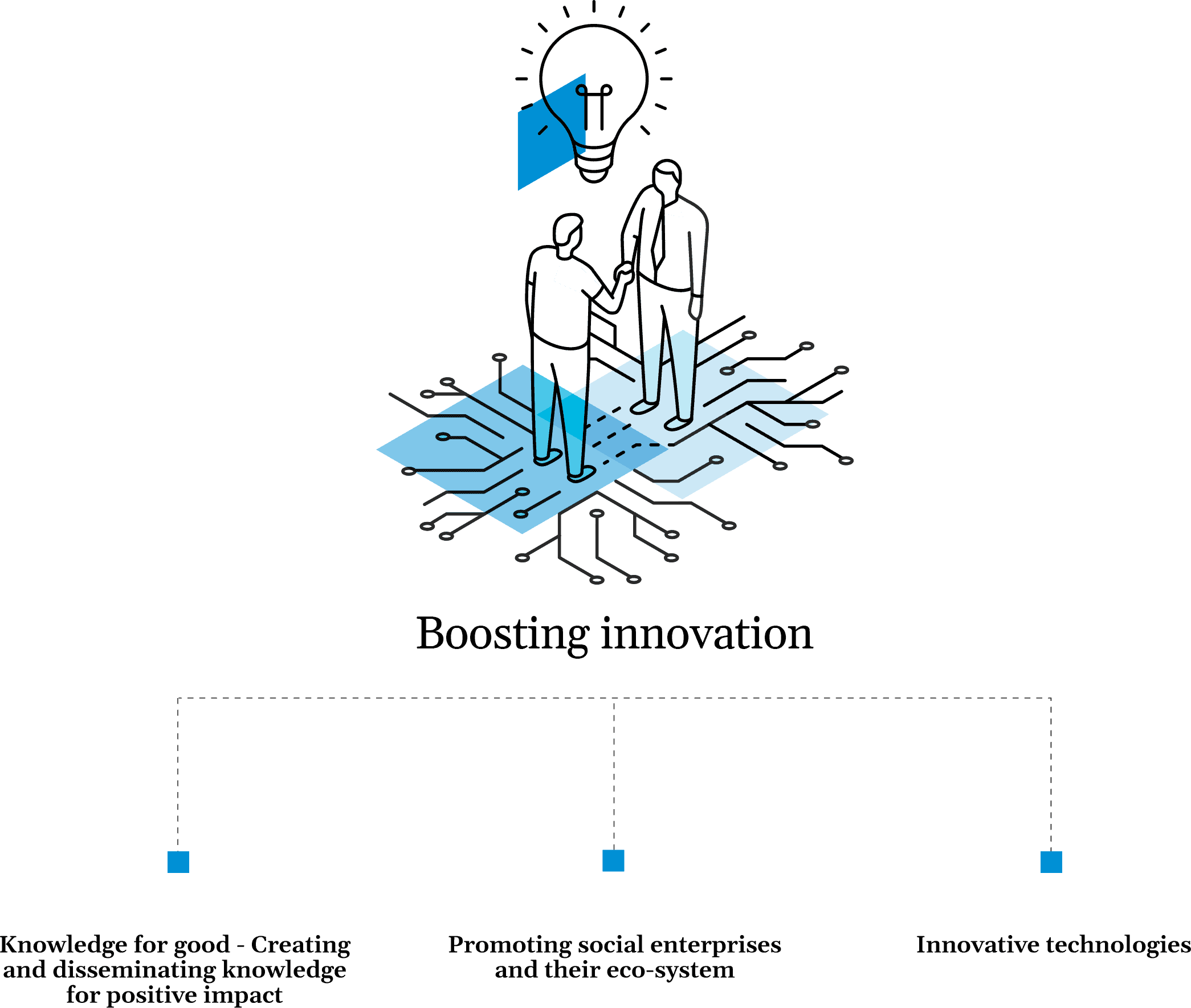 Within the framework of the Planet Goal, the Boosting innovation mission is committed to driving change. Our approach cuts across different areas of action and is aimed at acquiring skills and testing and consolidating methodologies, models and instruments designed to trigger processes of transformation of the third sector and social-impact entrepreneurship. The underlying principle is to ensure that innovation and inclusion, development and welfare, and economic wealth production and social value generation remain in self-perpetuating step with each other.
Development and reinforcement of the social economy
We respond to the need for renewal and development expressed by Italian social enterprises, through stimulus and support actions and by mobilising professional know-how in order to enhance the skills of organisations. We strive to trigger processes of organisational transformation and promote the efficiency, innovation and internationalisation of the social economy.
The Seed – Social Enterprises_Efficiency&Development call for proposals was launched in 2018 to support capacity building actions and innovation and development processes generated by social enterprises that want to prepare for sustainability under market conditions, while in some cases also becoming attractive for private capital. Two editions of the call for proposals have supported the design of 90 innovation plans.
Technology & Data for good
We promote digital transformation at the service of society and the social-impact economy, by creating combinations and opportunities for exchange between technology, especially digital technology, and collective and social action. Using technological applications, we test out new ways to address local needs, aggregate demand, enable effective data management, and empower organisations.
To meet this challenge, we forge strategic partnerships with entities in possession of high-level skills such as Fondazione Links, an auxiliary body that is a leading authority for organisations and students and a vital link between academia, business, start-ups and institutions, and Nesta Italia which, as an affiliate of the Nesta global philanthropic foundation based in London, has a long, international track-record in the tech for good sector.
Innovation ecosystem for the common good
Our aim is to be a regional skills hub within the framework of strategic partnerships that foster shared leadership and the pooling of resources to achieve scale and to consolidate an innovation ecosystem for the common good, thereby drawing policy-makers' attention to the culture of social impact innovation.
The pursuit of this aim has led to the creation of Torino Social Impact, a public-private infrastructure established in partnership with the Turin Chamber of Commerce to support, organise and promote Turin's social innovation ecosystem at international level. The Memorandum of Understanding of Torino Social Impact was signed by more than 80 public and private, profit and non-profit actors, which joined forces to strengthen the local system and endorse it as one of the best places in the world to undertake impact enterprise and impact finance.
In order to consolidate local empowering infrastructure, we support the action of social impact innovation centres such as SocialFare, an incubator certified by the Italian Ministry for Economic Development and dedicated to accelerating social impact start-ups, Nesta Italia and the Hub2Work platform for accelerating innovative start-ups operating in the Genoa area.
Culture of innovation, leadership and social impact entrepreneurship
We are committed to promoting entrepreneurial culture in the social sector and creating a new generation of innovators with a high level of social and environmental awareness.
We therefore build relationships with institutions, Italian universities that have already established social entrepreneurship departments and degree courses in sustainability, and Observatories and research bodies that study these topics. We have supported training courses, cultural initiatives and the University Course on Social Impact Assessment, developed by the University of Turin within the framework of Torino Social Impact. We take part, as speakers, in events, seminars and conferences on social impact, with a view to sharing data, models and methodologies.