We take care of our local cultural heritage, so that future generations can also benefit from this wealth. We design medium and long-term strategies to interpret cultural heritage within its own landscape, thus paving the way to a sustainable vision of culture, in both economic and social terms.
Our work is divided into various
areas of intervention

.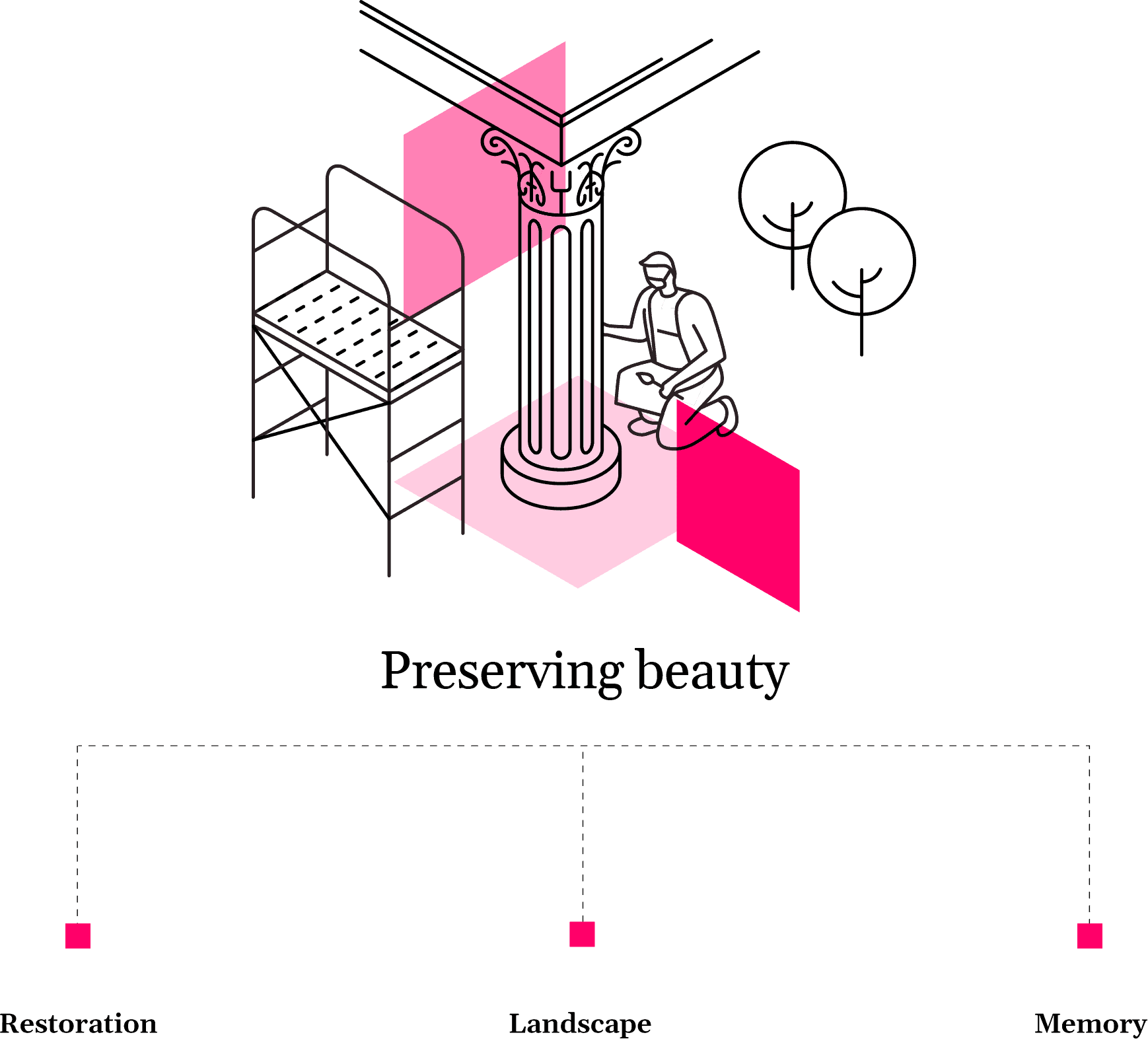 Within the Culture Goal, the Preserving beauty mission strives to maintain and preserve our architectural, artistic, archival and landscape heritage, in the conviction that it represents a fundamental local resource that not only deserves close attention, but also warrants medium- and long-term investment policies. The corresponding action is implemented in collaboration with Fondazione 1563 per l'Arte e la Cultura, one of FCSP's auxiliary bodies.
Restoration
We support projects aimed at the restoration and regeneration of cultural heritage in the historic centres of Turin and Genoa and throughout the rest of our region, with particular attention to the landscape in which it is located, because our approach to conservation is holistic. We have contributed to the regeneration of high-profile architectural sites and art works, with a strong emphasis on their interaction with their historical and artistic context, the museum system and places of cultural production.
To support our work on major monumental complexes, we work in conjunction with the major institutions concerned, in order to establish which sites have the highest priority for our region. We endeavour to spread the culture of scheduled maintenance and preventive conservation of our heritage, in parallel with efforts to plan management programmes by means of specific calls for proposals and funding instruments. We also issue calls for proposals to promote specific restoration initiatives for the benefit of cultural heritage sites throughout our region.
We promote research and technological innovation aimed at formulating heritage conservation models, especially through Centro di Conservazione e Restauro di Venaria Reale, our main partner in this field.
We believe this is the right way to turn architectural and artistic heritage into a premium attribute and a powerful magnet to attract resources, businesses and talent, as well as a means for us to lay the foundations for the sustainable development of our region.
Landscape
The Preserving beauty mission sees the landscape as a fundamental part of the country's cultural heritage, and takes a holistic view of safeguarding that landscape, rather than confining its efforts to protecting and regenerating individual heritage assets. Within this sphere, we are helping conduct trials of the Piedmont Regional Landscape Plan in an area surrounding Ivrea and the Alta Langa, under an agreement with Piedmont Regional Council and the Ministry of Cultural Heritage and Activities.
Memory
Preserving beauty also involves safeguarding memory by supporting archives and cultural institutes that promote local historical knowledge, so that it can be passed on to future generations.
Projects supported by the Preserving beauty mission, within the framework of the Culture Goal.