We invite people to take the initiative: in fact, we strive to foster a new spirit of sharing, with which to rethink cultural and public spaces, in a new light that makes them more inclusive and engaging. We see culture as a driver for building a new active citizenship.
Our work is divided into various
areas of intervention

.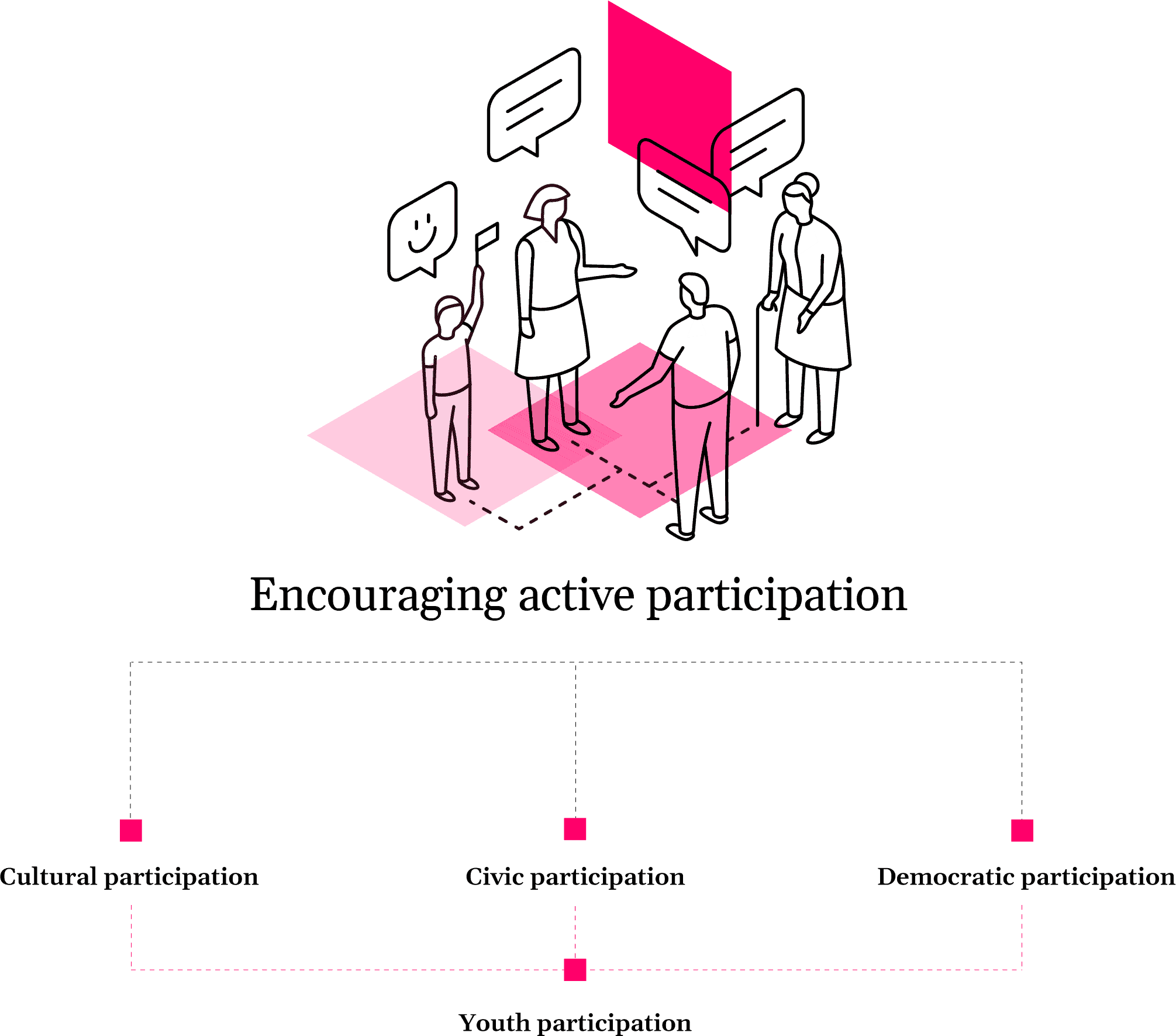 The Encouraging active participation mission contributes to achieving the following Sustainable Development Goals
Within the framework of the Culture Goal, the Encouraging active participation mission promotes the values that arise when society means "us", and every individual is valued in his or her role as a citizen, so as to foster individual responsibility, as the basis on which to build a fairer, more sustainable society. So for us, participation means different things: different from each other, but all equally important when it comes to creating new spaces for culture and a new active citizenship.
Cultural participation
We endeavour to spread cultural practices so that they involve ever broader segments of the population, thereby boosting audience development in various ways and by various means. Since 2015, for example, we have been working on a broad, integrated system called OPEN, which encompasses actions, projects and tools designed to analyse and interpret new types of demand for culture. Over the years, this has given rise to a call for proposals and a series of activities and initiatives, including Open Cinema and Open Magazine.
Internationally, we take part in a European cooperation project called ADESTE+ (Audience DEvelopment STrategies for cultural organisations in Europe); we have created a platform for Audience Development and Community Engagement professionals called PARTIZENS – Participating Citizens; and we promote international professional exchange projects between European countries. The challenge also extends to cultural practices in the scientific arena, which we have tackled by establishing, amongst other things, a think-tank called PICS, which focuses on Culture and Health and bringing science to the wider public.
The importance of health is such that it is a cross-cutting aspect of FCSP's work: all three Goals – Culture, People and Planet – are committed to achieving SDG 3, using different tools and methods. The Encouraging active participation mission aims to approach the issue in a new way, because culture can be an agent of health development, that needs to be studied and understood in depth.
Civic participation
The concept of participation is inextricably linked with civic duty. This is why we work to enhance public spaces by means of various projects, including the mapping of cultural organisations operating in the region, and the CivICa project, which sees culture as a lever for civic innovation and an instrument of citizenship and democracy. Our support for the Polo del '900, a research group that focuses on multiple aspects of 20th Century Turin, also forms part of this approach.Furthermore, we promote and support initiatives involving civic actors, aimed at identifying, managing and looking after urban common goods, and we facilitate network action among the players involved (such as the Neighbourhood Housing, Metropolitan Allotments and Re-use networks).
Democratic participation
Participation in voting and political life is essential: every time we have held workshops and meetings, we have aroused considerable interest and succeeded in getting people on board and firing up their spirit of active citizenship. We are therefore sticking to this path in 2020, the year of the US elections and a pandemic that has highlighted the profound interconnectedness between apparently distant parts of the world.
Projects supported by the Encouraging active participation mission of the Culture Goal.