We see culture as an essential ingredient in people's development, as it provides opportunities to enhance cultural skills and gain personal experience in the artistic arena. We promote art as a language that helps young people understand the world and play an active part in shaping it. We support an education system that feeds the cultural professions and we promote efforts to strengthen the entire sector, so that it can play its crucial role in society's growth effectively.
Our work is divided into various
areas of intervention

.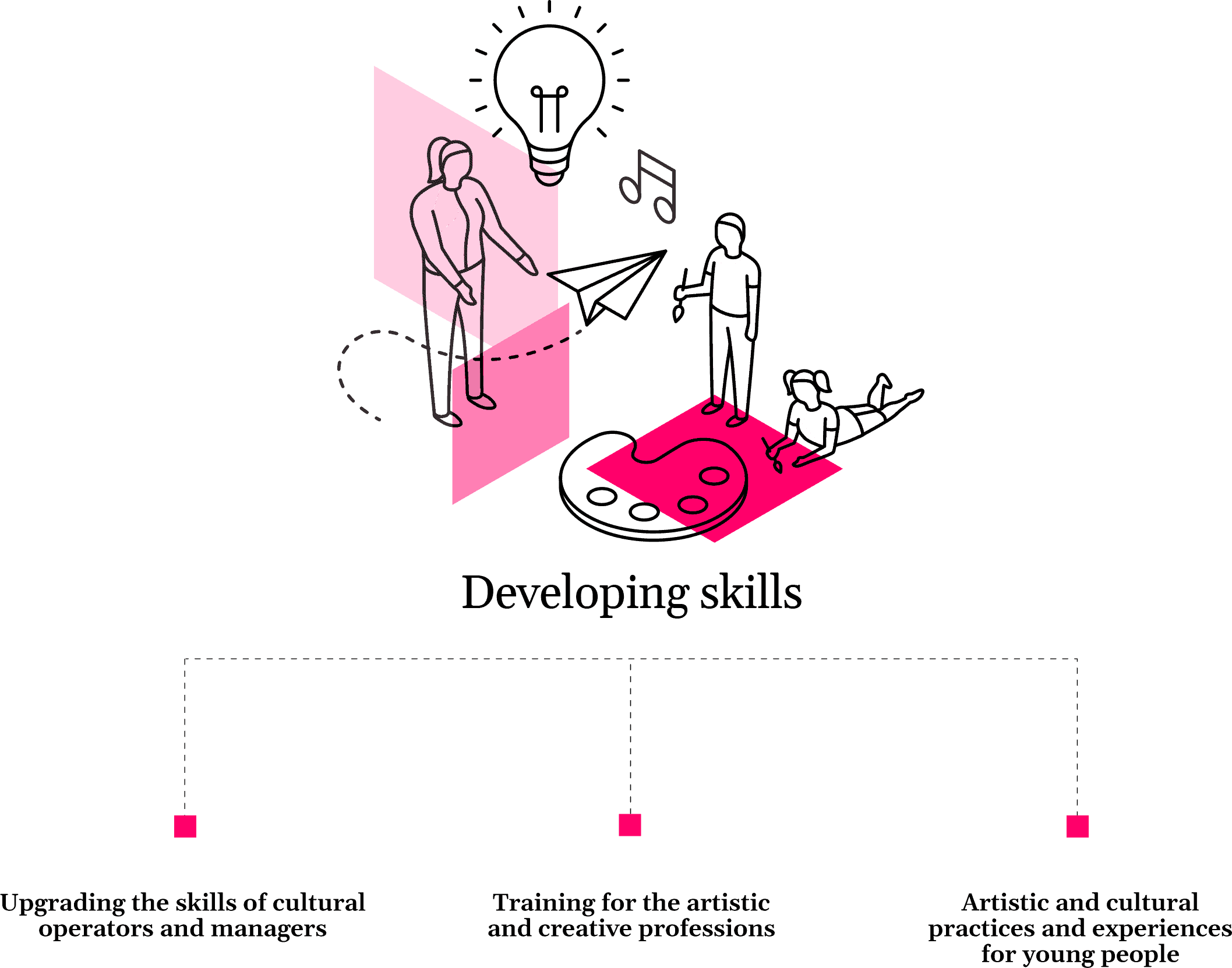 The Developing skills mission contributes to achieving the following Sustainable Development Goals
With the Developing skills mission, under the Culture Goal, we strive to get culture recognised as a key medium for the education of individuals and the development of society, with the same importance as economic, political and social considerations. To achieve this, we facilitate the spread of learning contexts that are open to creativity and active cultural experience, and we strengthen the ability of cultural bodies to be drivers of change, by prompting them to take an approach based on social responsibility and sustainability, geared towards achieving the United Nations Sustainable Development Goals.
Upgrading the skills of cultural operators and managers
Culture can contribute to the development and well-being of individuals: this is especially important at the age when children start building their personality and imagining their role in the community. This is why we support projects that promote large-scale use of art and culture as educational vehicles, and strive to strengthen multidisciplinary public-private collaboration networks aimed at prompting action from educational communities.
For example, we support the Nati per Leggere Piemonte project, which promotes reading aloud in the family as a recognised tool for the cognitive development of children in their early years and for strengthening bonds between parents and children. The project derives from a collaboration with Piedmont Regional Council, involves the Regional Education Authority and is based on harnessing the energies of the culture, health and education sectors across most of the Piedmont region. It is also strategically linked with the Culture Goal's Encouraging active participation mission and the People Goal's Educating for collective development mission, which is already working in this arena with the ZeroSei programme.
Training for the artistic and creative professions
We support the need for a composite, integrated, effective and attractive training system capable of building artistic and creative professionals who are ready for the world of work and responsive to social and cultural change. Thanks to our collaboration with various training bodies and in synergy with the Culture Goal's Building capacity to attract mission, we help enhance new and established specialist training opportunities, by promoting liaison between the academic and professional systems, and ensuring continuity in the pathways between the two.
Artistic and cultural practices and experiences for young people
Improving the ability of cultural bodies to be agents of development also involves upgrading the skills of cultural operators and managers and facilitating opportunities for exchange between them, including through capacity building. This approach requires a particular effort to upgrade the various culture professions even further, with a special emphasis on networking. In this respect, we also strive to boost organisations' ability to form networks, by connecting needs, opportunities and skills, and piloting new forms of evolution and growth, based on sustainability.
This is an even more ambitious challenge when, as in our case, it is viewed as a means of facilitating the implementation of all the missions within the Culture Goal. This is why synergy between the missions is the key to success both within and beyond the Culture Goal. It was this kind of teamwork, in fact, that gave rise to Performing+, a capacity building project in collaboration with Fondazione Piemonte dal Vivo and Osservatorio Culturale del Piemonte, which works with live performance organisations, in line with the Sustainable Development Goals.