Fondazione Compagnia di San Paolo (FCSP) has become a partner of the European project, which is now in its third year. Three events are scheduled for 2021.
FCSP is one of the partners of the ADESTE+ project (Audience DEvelopment STrategies for Cultural Organisations in Europe), a large-scale cooperation project co-funded by the European Union's Creative Europe Programme, aimed at triggering change and boosting cultural participation.
FCSP's Encouraging Active Participation Mission has opted to partner the project for the specific purpose of disseminating best practices in audience development. With the aid of international experts, furthermore, FCSP aims to support cultural, civic and democratic participation policies in relation to the guidelines set down in the European planning documents covering the next seven-year period.
Now in its third year, ADESTE+ has attracted the involvement of 15 organisations across 11 cities, spanning 7 different countries. All of these organisations have striven to make audiences the central plank of cultural design. To achieve this goal, the project has involved a wide range of organisations with different vocations, including artistic partners, research partners and institutional partners responsible for developing national policies.
By the end of its first year, ADESTE+ had already reached 349 people from 19 countries, through its first Summer School European Conference in Lisbon. In 2020, due to the continuing pandemic, the second European Conference was held online for 1250 registered participants from 59 countries.
The 2021 events calendar includes the following:
Adeste+ Summer School – online event (click here to register)
29 September 2021: Welcome
05 / 06 / 12 / 13 October 2021: Workshop
20 October 2021: Final Pitch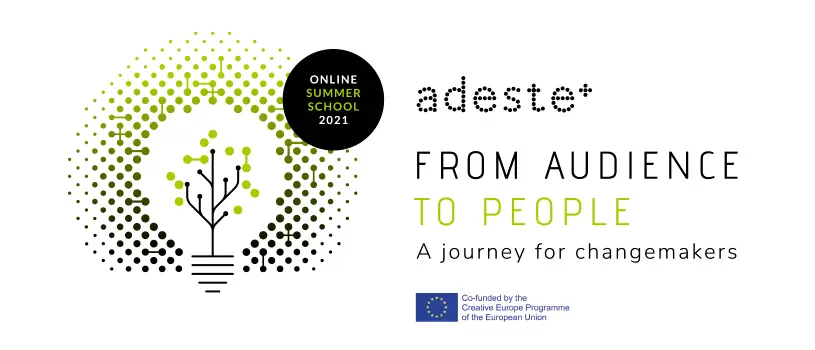 Adeste+ European Conference 2021 (hybrid online and face-to-face event in Turin)
10 November 2021: Project results and lessons learned.
11 November 2021: Participation in Europe and comparison with other European projects and networks.
12 November 2021: Policy recommendation.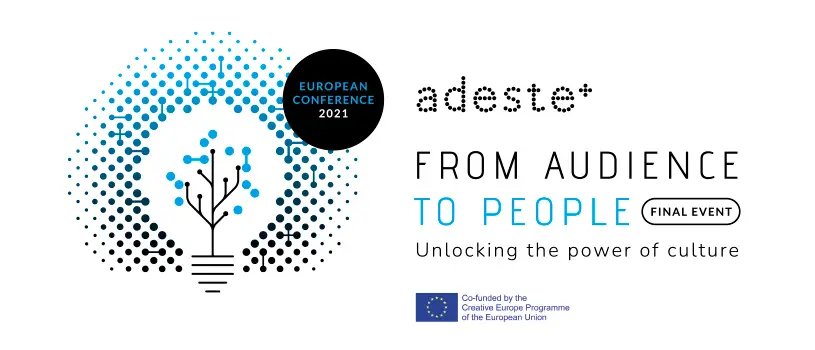 Policy Forum (online event, by invitation only)
11 November 2021: Closed-door event by invitation.
12 November 2021: Third day of the European Conference.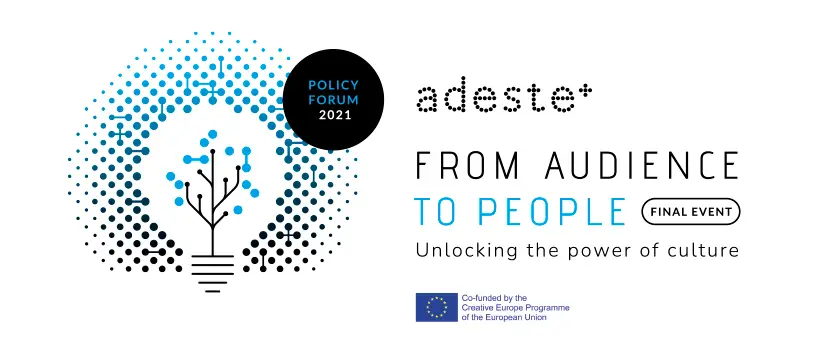 Two factors in particular make ADESTE+ innovative. Firstly, it forges a partnership that represents the culture chain at various levels, including designers of cultural support policies, and producers, organisers, commentators and users of culture. Secondly, the path it sets is not aimed exclusively at creating cultural products. The artistic partners will road-test different approaches to planning and production, while working alongside each other as they become case studies of how to promote the models they test. The following partners have opted to subscribe to the project:
Artistic partners: Teatro Stabile di Torino (IT), Calouste Gulbenkian Foundation (PT), Harinera (ES), Croatia National Theatre I Zajc (HR), Mercury Theatre (UK), Norrebro Theatre (DK).
Research partners: Fondazione Fitzcarraldo (IT) (project leader), The Audience Agency (UK), Centre for Arts and Interculture (DK), University of Deusto (ES), Melting Pro (IT), Kultura Nova Foundation (HR), Mapa das Ideias (PT) and the City of Warsaw.
Institutional partners: Fondazione Compagnia di San Paolo, City of Zaragoza, Calouste Gulbenkian Foundation and Kultura Nova Foundation.
ADESTE+ is a new iteration of ADESTE, a 2013 project designed to put audiences at the centre of the cultural production process, by creating high-quality content that is genuinely accessible. For further information: www.adesteplus.eu